Kale Chips
Ingredients:

Bunch of Kale
1 Tablespoon olive oil
1 Teaspoon sea salt or season salt
Instructions:
Pre heat oven to 350 degrees, line a cookie sheet with parchment paper. Remove Kale leaves from stems, wash and dry (salad spinner works great). Place leaves on parchment paper, drizzle with olive oil, sprinkle with choice of salt. Bake until edges are brown (not burnt) approx. 10-15 minutes.
7 Layer Bean Dip
Ingredients:

1 can (16 oz.) refried beans
1 cup guacamole
1 cup fresh salsa
1 cup sour cream
1 cup shredded mixed cheddar and jack cheese
1 can (4 1/4 oz.) sliced or chopped black ripe olives
1/2 cup drained chopped Roma tomatoes
1/4 cup chopped fresh cilantro
Tortilla chips
Instructions:
On a serving dish, spread refried beans into a 1/2-inch-thick round
Layer guacamole, drained fresh salsa, sour cream, then the shredded mixed cheddar and jack cheese over beans
Sprinkle with drained sliced or chopped black ripe olives, drained chopped Roma tomatoes, and then chopped fresh cilantro
Serve with tortilla chips
Protein Balls
Ingredients:

1 C Peanut butter or Almond Butter
1 C Quick Oats
1 C C Protien powder
1/4 C local honey
1/4 C ground flax seed
1/4 C sunflower seeds
1/4 C raisins (optional)
Instructions:
Mix together and roll into balls. Refrigerate and eat as snack.
Oven-Fried Sweet Potato Wedges
Ingredients:

2 lbs sweet potatoes
1 teaspoon chili powder
1 teaspoon dried thyme
1 teaspoon salt
1/2 teaspoon ground cumin
1/2 teaspoon ground cinnamon
2 tablespoons canola oil
Instructions:
Preheat oven to 450 degrees. Coat jellyroll pan with cooking spray.
Cut potatoes in half, lengthwise.
Place each potato half, cut-side down, on cutting board; cut into 1-inch thick wedges.
Combine chili powder, thyme, salt, cumin, and cinnamon.
In a separate bowl, toss together potatoes, oil and spice mixture until well-coated.
Arrange on pan in a single layer.
Roast until potatoes are tender and browned, 20-25 minutes.
Corn Chowder
Ingredients:

Fresh kernel corn (NO CANNED STUFF!) from 4 or more corn (yellow or white sweet corn)
½ yellow sweet onion chopped
Other fresh vegetables you like such as green beans, asparagus, bell pepper, mushrooms as much as you like cut into quarter inch pieces. I usually just do corn and one other vegetable.
Coconut Oil - 1 to 2 tablespoons depending on how many vegetables you have (olive oil works good too)
1 clove of garlic finely minced (optional)
Black pepper as much as you like
Instructions:
Melt your coconut oil.
Sauté your fresh vegetables and corn in the coconut oil until almost cooked on a nonstick pan. Add the chopped onion and garlic and continue to sauté until the vegetables are cooked. Season to your liking with pepper and any other seasonings you like.
As is, this would be a Vegan dish, but you can add cheese and meat if you like.
I've added cooked tri-tip, carne asada, pork chops and different sausages.
This is so simple and so delicious. The possibilities are endless!
Quinoa and Kale Salad
Ingredients:

1 Cup quinoa
1.5 cups water
1 fresh garlic finely chopped
pinch of salt
1 cup fresh kale chopped
2 tablespoons balsamic vinegar
1 1/2 teaspoons honey
1 tablespoon extra-virgin olive oil
1/4 teaspoon salt
1/2 teaspoon freshly ground black pepper
1 1/2 cups strawberries, hulled and quartered
1/3 cup sliced red onion
Olive oil cooking spray
4 thin slices prosciutto (about 2 ounces)
6 cups baby arugula (about 5 ounces)
2 ounces goat cheese or feta, crumbled
1 cup of torn romaine lettuce
1/4 of a cucumber - sliced
1/2 tomato cut in small pieces
1/4 cup pitted Greek olives - halved
1/4 cup garbanzos
2 tablespoons of crumbled feta cheese
Dressing:
2/3 cup olive oil
1/4 cup red wine vinegar
1 garlic clove minced
1/4 teaspoon salt
1/4 teaspoon pepper
2 tablespoons of Dijon mustard
Instructions:
Add quinoa, water, salt, and garlic to a saucepan and bring to boil, cover and simmer at low heat for 10 minutes. Add kale and continue cooking for additional 15 minutes or until water is absorbed and quinoa is soft. Eat warm as a side dish or add cold to a salad.
Cut the meat from the precooked rotisserie chicken into small, bite-sized pieces.
Combine chicken with all of the other ingredients and mix well.
Let the mixture sit in the fridge for at least 15 minutes to let the flavors develop.
Add chicken salad to a bowl of greens, spread between two pieces of toast or enjoy with crackers!
Whisk together first 5 ingredients (through black pepper) in a large serving bowl. Add berries and red onion; let stand 15 minutes.
Meanwhile, lightly coat a seasoned cast-iron skillet or nonstick pan with cooking spray, and heat over moderately high heat. Add prosciutto in one layer, and cook, turning, about 5 minutes or until golden brown and crispy. Transfer to a plate to cool; crumble and reserve.
Place the baby arugula in a large serving bowl with the cheese; add the strawberries, red onion, and balsamic dressing, and toss gently until just coated. Divide the salad among 4 serving plates, and top evenly with the cooked prosciutto.
Mix all dressing ingredients and only used 2 tablespoons of dressing for the above salad ingredients.
Chicken Sweet Potato & Kale Soup
Ingredients:

2 chicken breasts, on the bone, skin removed (about 26 oz total with bone)
1 teaspoon seasoning salt (such as adobo)
1/2 tsp olive oil
1 large onion, chopped
2 celery stalks, chopped
3 garlic cloves, chopped
1/2 tsp dried oregano
1/2 tsp dried thyme
1/2 tsp ground cumin
6 cups reduced sodium chicken broth
1 large sweet potato, peeled and diced 1-inch cubes
3 cups kale, roughly chopped
1 fresh jalapeno, sliced in half lengthwise
1/4 cup fresh cilantro
Instructions:
Season the chicken with the adobo and set aside while you prep all your vegetables.
Heat a large nonstick pot or Dutch oven over medium-low heat, add the oil and the onions and celery and cook until soft and golden, about 8 to 10 minutes,
Add the garlic and dry spices and cook 2 to 3 minutes.
Add the chicken broth, chicken, jalapeno and cilantro.
Cover and cook 20 minutes
Add the sweet potato and kale and cook until the sweet potatoes are tender and the chicken is cooked, about 25 to 30 minutes.
Remove the chicken, shred or cut up and discard the bones.
Return to the pot, discard the jalapeno and serve the soup into 6 bowls
Classic Chicken Salad
Prep Time: 5 minutes
Cook Time: 5 minutes
Total Time: 10 minutes
Servings: 2-3
Ingredients:

1/2 precooked rotisserie chicken (deboned, about 2 cups of chopped chicken)
1/3 cup full fat, plain Greek yogurt
¼ cup celery ribs, chopped fine
1 tablespoon fresh lemon juice
Salt (to taste)
Pepper (to taste)
Instructions:
Cut the meat from the precooked rotisserie chicken into small, bite-sized pieces.
Combine chicken with all of the other ingredients and mix well.
Let the mixture sit in the fridge for at least 15 minutes to let the flavors develop.
Add chicken salad to a bowl of greens, spread between two pieces of toast or enjoy with crackers!
Italian Pasta Salad
Prep Time: 5 minutes
Cook Time: 10 minutes
Total Time: 15 minutes
Servings: 6
Ingredients:

2/3 cup elbow pasta
1 tablespoon extra-virgin olive oil
1/3 cup fresh mozzarella, diced
1/3 cup cherry tomatoes, halved
5 leaves basil
1/2 tablespoon balsamic vinegar
1/3 cup cooked ham, sliced
Instructions:
Bring a pot of water to boil and cook pasta. #SpoonTip: Cook the pasta one minute less than what the package suggests to make it perfectly al dente.
Chop the other ingredients.
Toss all the ingredients into a mason jar with the oil and balsamic vinegar.
Shake and serve.
Honey-Balsamic Glazed Grilled Chicken with Asparagus
Ingredients:

4 chicken breasts
1 cup balsamic vinegar
1 tablespoon honey
2 tablespoons butter
2 tablespoons olive oil (infused with garlic)
2 tablespoons Herbs de Provence
1 bunch asparagus
Instructions:
Get the glaze started
1 cup quality balsamic vinegar
1 T quality honey
2 T butter
Simmer balsamic vinegar until it has reduced by 2/3rds. Add honey, stir until thoroughly mixed. Then add butter, 1 T at a time, and mix until dissolved and velvety before adding the next tablespoon of butter.
While you are making the sauce, grill the chicken and asparagus.
Spray chicken with a garlic olive oil and top with a sprinkle of Herbs de Provence on each piece. Grill until cooked thoroughly.
Grill the asparagus. Also spray with the garlic olive oil and sprinkle with Herbs de Provence. I also added a tiny bit of salt and pepper to both the chicken and the asparagus. This doesn't take long -- about 4-5 minutes.
To plate the dish -- Drizzle about a tablespoon of sauce on the plate. Top with chicken and asparagus. Drizzle the top the dish with extra sauce. Add cracked pepper.
Serves 4.
Lemon Dill Salmon
Ingredients:

1 lb salmon filet
Cooking Spray
Fresh Lemon Juice
¼ teaspoon fresh dillweed
1 package cooked wild rice
Steamed Vegetables (your choice)
Instructions:
Generously coat a large nonstick skillet with low calorie cooking spray and sear 1 pound of skinned salmon fillet over medium heat.
Sprinkle salmon with 2 tablespoons of fresh lemon juice and ¼ teaspoon of fresh dill weed.
Pan sear pan until browned and flaky in the middle when pierced with a fork—usually a few minutes a side will do the trick.
Remove fish from the heat and lie on a bed of wild rice and serve with steamed veggies (i.e., I often use asparagus or zucchini).
Zucchini "Pasta" with Tomato Sauce
Prep time: 15 mins
Cook time: 15 mins
Total time: 30 mins
Serves: 4
Gluten Free Zucchini "Pasta" mixed with a quick and easy tomato sauce!
Ingredients:

4 zucchinis (about 4 cups), cut into thin noodles with a vegetable slicer
1 tablespoon extra-virgin olive oil
½ cup onion, chopped
4 cloves garlic, minced
1½ cups crushed tomatoes
⅛ teaspoon dried oregano
⅛ teaspoon red pepper flakes
salt and pepper to taste
1 tablespoon basil, chopped
Parmesan cheese, for garnish if desired
Instructions:
Place zucchini noodles in a colander and sprinkle with salt.
Allow the zucchini noodles to drain. Toss and squeeze out any extra moisture. Set aside.
Add oil to a large saucepan.
Add is onion and cook for 2-3 minutes until tender.
Add in garlic and cook for an additional minute.
Add in crushed tomatoes, oregano and red pepper flakes. Bring to a light simmer and cook for 10 minutes.
Add zucchini noodles to the sauce and cook for 2-3 minutes or until tender.
Stir in basil and Parmesan cheese.
Season with salt and pepper if desired. Serve immediately.
Jerk Chicken Stuffed Pitas
Ingredients:

1 pound of boneless, skinless chicken breasts
1/2 cup Jerk spices (a store-bought mixture of pimento, Scotch bonnet peppers, cloves, cinnamon, scallions, nutmeg, thyme, garlic, and salt).
4 large whole wheat pitas
1 head lettuce
1 Tomato sliced
1 Onion sliced
1 Cup plain yogurt
Instructions:
Rub 1 pound of boneless, skinless chicken breasts with a mixture of jerk spices
Grill or barbecue chicken on medium heat until cooked all the way through the center.
Transfer chicken to a clean cutting board, slice into thin strips, and set aside.
Warm and split open 4 large whole wheat warm pitas.
Stuff with chicken, lettuce, tomato, onion, and a bit of plain yogurt to cut the heat (if desired).
Turkey burgers with Guacamole
Guacamole:

2 Avocado diced
1 tomato diced
3 tbsp. onion
1 lime juiced
1/2 bunch cilantro
1/2 tsp pink Himalayan
Turkey Burger:

1 lb. ground turkey
1/4 apple diced
1/2 onion diced
1 C spinach (I used Kale in a pinch) chopped
1 tbsp. cumin
1/2 tsp pink Himalayan salt
1 tbsp. coconut oil
Instructions:
Sauté onion until opaque, add apples and sauté 5 more minutes or until tender. Add to turkey, spinach, cumin, salt, mix and form into patties. Cook in frying pan in coconut oil approx. 4 min on each side. Serve on lettuce leaves with guacamole as dressing.
Chile Relleno Casserole - Nathan Amarante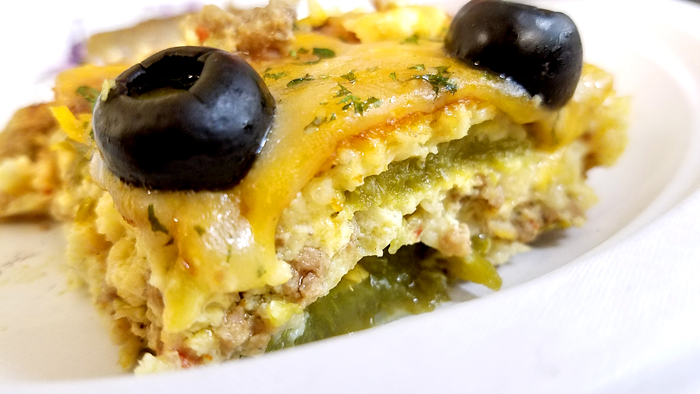 Ingredients:

1-1 ½ pounds ground beef
½ cup of diced onion or 1 tablespoon onion powder
3-6 cloves of garlic (minced)
2 cups cheese (shredded)
1 tablespoon ketchup
1 bundle green onions (chopped)
1 whole bell pepper (diced)
Salt, pepper, chili powder, and crushed red pepper
1 large can Ortega chilies
6-8 eggs
1 cup milk
2 tablespoons plain yogurt
1 can whole black olives (garnish/topping: cut in half)
¼ cup whole wheat flour or almond flour
¼ cup instant whole grain oats
Instructions:
Fry beef, ½ of green onions, bell pepper, garlic, and spices/ketchup (use olive oil for bottom of non-stick pan if necessary). Pre-heat oven to 350°F. Layer: half of whole chilies, cooked beef mixture, and 1 cup of cheese in a glass 13 x 9 inch pan (butter bottom of pan). Egg mixture/filling: in medium/large bowl, beat eggs, milk, yogurt, flour, and oats (use electric mixture). Pour half of egg filling over chilies, beef mixture, and cheese. Layer second layer as preceding (save for the beef mixture). Bake 45 minutes uncovered (middle oven rack) or until knife inserted in center comes out clean. Add remaining 1 cup of cheese, parsley, green onion, and olives. Let stand 5 to 10 minutes before serving.
Substitutions/Options
Ground turkey or Italian sausage or mushrooms in lieu of beef, modify cheese variety, add spinach, diced chilies, diced jalapeños, diced tomatoes, and/or salsa to egg mixture/filling. Substitute ½ cup of quinoa for flour/oats for a relatively gluten free version. Serve with salsa.
Easy Pumpkin Muffins
Ingredients:

1 box spice cake mix
1 (15 oz) can pure pumpkin (not pumpkin pie mix)
Instructions:
Mix cake mix and pumpkin together
Fill muffin cups 3/4 full
Bake at 350 for 18-22 minutes or until knife comes out clean
Serve
Blueberry Cobbler
Ingredients:

3 C blueberries
2 C Almond Flour
¼ C Coconut Flour
½ tsp Baking Soda
¼ tsp Salt
½ C honey
¼ C (soft) butter (half stick)
1 drop almond extract
3 tbsp. flax meal
9 tbsp. warm water
1 tbsp. apple cider vinegar
Optional: 1 cup of walnuts and ½ tbsp. of cinnamon
Instructions:
Preheat oven to 350 F. Grease an 8x8 dish
Pour blueberries into pan
Mix flour, salt and baking soda
Separately, mix butter, honey and extract
Combine wet and dry mixtures
Combine flax and warm water. Let sit for 5 min
Add flax mixture to batter
Stir in vinegar
Pour batter on berries. Bake for 40-50 min
Healthy Banana Oat Cookies
Ingredients:

2 large ripe bananas
1.5 cups uncooked oats
1/2 tsp cinnamon
Mix in anything you like (nuts, chocolate chips, raisins, etc)
Instructions:
Mix all ingredients in a large bowl.
Drop by spoonful on cookie sheet
Bake at 350 degrees for 15 min.
Let cool, serve
Paleo Cookies
Ingredients:

1 & ¼ cups Honeyville blanched almond flour
¼ tsp salt
¼ tsp baking soda
¼ cup coconut oil, softened (not melted)
¼ cup honey
1 tsp vanilla extract
½ cup dark chocolate chips
Instructions:
Preheat oven to 350 F
In a bowl, combine the almond flour, salt, and baking soda
In a separate bowl, blend together the coconut oil, honey and vanilla extract.
Pour the wet ingredients in with the dry ingredients and blend
Stir in the chocolate chips
Line a baking sheet with parchment paper and scoop small spoonful of dough onto the sheet. Space the dough out well as the cookies will spread
Bake for 8-10 minutes