Chile Relleno Casserole - Nathan Amarante
---
Chile Relleno Casserole - Nathan Amarante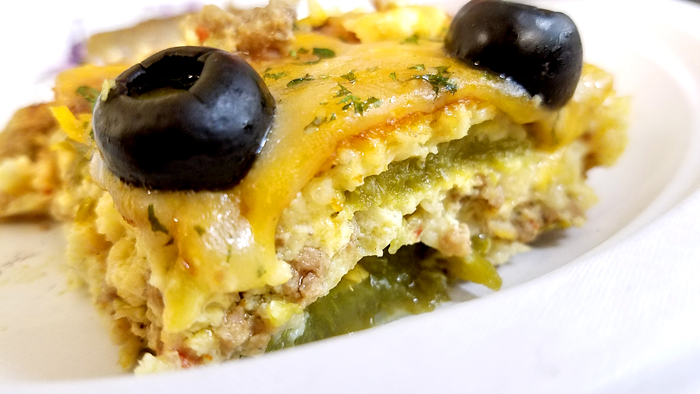 Ingredients:

1-1 ½ pounds ground beef
½ cup of diced onion or 1 tablespoon onion powder
3-6 cloves of garlic (minced)
2 cups cheese (shredded)
1 tablespoon ketchup
1 bundle green onions (chopped)
1 whole bell pepper (diced)
Salt, pepper, chili powder, and crushed red pepper
1 large can Ortega chilies
6-8 eggs
1 cup milk
2 tablespoons plain yogurt
1 can whole black olives (garnish/topping: cut in half)
¼ cup whole wheat flour or almond flour
¼ cup instant whole grain oats
Instructions:
Cook beef (or substitute), ½ of green onions, bell pepper, garlic, and spices/ketchup (use olive oil for bottom of non-stick pan if necessary). Pre-heat oven to 350°F. Layer: half of whole chilies, cooked beef mixture, and 1 cup of cheese in a glass 13 x 9 inch pan (butter bottom of pan). Egg mixture/filling: in medium/large bowl, beat eggs, milk, yogurt, flour, and oats (use electric mixer). Pour half of egg filling over chilies, beef mixture, and cheese. Layer second layer as preceding (save for the beef mixture). Bake 45 minutes uncovered (middle oven rack) or until knife inserted in center comes out clean. Add remaining 1 cup of cheese, parsley, green onion, and olives. Let stand 5 to 10 minutes before serving.
Substitutions/Options
Ground turkey or Italian sausage or mushrooms in lieu of beef, modify cheese variety, add spinach, diced chilies, diced jalapeños, diced tomatoes, and/or salsa to egg mixture/filling. Substitute ½ cup of quinoa for flour/oats for a relatively gluten free version. Serve with salsa.